Partial Dentures
What is a Partial Denture?
A partial denture is a removable appliance replacing one or more missing natural teeth and associated tissues. It is supported by the natural remaining teeth and gums. It replaces what is lost and preserves what is left. Basically removable partial dentures come in three types - acrylic, valplast or chrome. The type suited to your particular requirements will be assessed at your consultation with Blair.
Do ALL extracted teeth have to be replaced?
Many adult patients have lost back teeth in the past and have never had them replaced. A vast majority suffer no major problems eating, speaking or esthetically (the way they look). On the other hand, a few tend to develop joint problems, headaches, neck aches or ear aches typical of TMJ damage.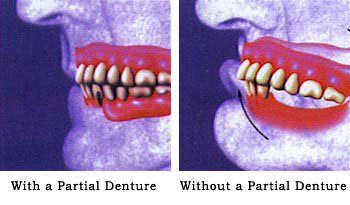 Consequences of Missing Teeth
Headaches caused by tooth loss - from traumatic contact on the teeth while eating, and even when just opening the mouth. This, in turn, can cause the jaw joint - the Temporo Mandibular Joint (TMJ)- to become stressed, causing headaches.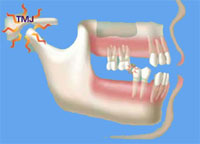 For a free initial consultation, please call us today on 07 4926 2296
"Our Goal is to provide you with a denture that gives you a natural appearance as well as restoring your ability to eat and speak"
Book your consultation
To book your complimentary initial consultation with Blair, call
07 4926 2296 or use our website contact form:
Free Initial Consultation